Marion's Landscape Painting Newsletter - April 2012
WELCOME to my April newsletter, Dear Newsletter Readers,
HAVE YOU MISSED ME? I am so sorry for not writing for the last couple of months.. all is fine just too busy and not very inspired. Now I am not blaming you but some feed back would really help.Please email me thoughts, ideas, suggestions ... discussion points -- YOU KNOW YOU WANT TO.

ARTIST'S BLOCK


I have been painting fairly steadily over the last few months but did not feel totally satisfied or inspired.Whilst at a painting course another artist worked solely with a palette knife. Yes a LIGHTBULB moment.. I was totally inspired.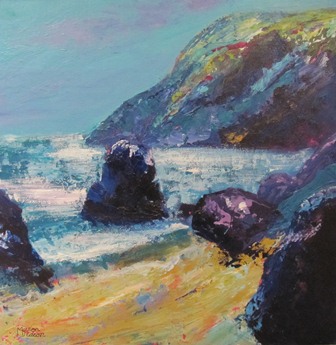 DO YOU LIKE IT?

Well this is what I produced using just a palette knife and acrylic paint. I worked on a canvas board and loved it. This is now one of a series of 8 and I am pleased to say 3 are already in a gallery.




GO ON GET OUT !!!
Yes I do mean YOU. If we do not get outside and experience the world around us how can we be inspired. Now obviously I always take my own advice so shortly I will be spending a week in Plocton, West Scottish coast on a painting course. EXCITED? Well yes very much. My biggest challenge, as I see it, is getting enough painting gear in my suitcase and onto the plane. I will definately let you know all about it.
ART CLASSES & WORKSHOPS
Have you ever wondered about trying out painting?

Would you like to improve your painting skills or try some new techniques?

I am based in Walton on Thames,Surrey and run fortnightly classes and day workshops. If you are interested please contact me on mariondeacon@btinternet.com

Have a great few weeks, let me know what your upto and I will be in touch in May.