Haverigg Beach
Haverigg Beach
I think what I love most about painting outside is you never know quite what to expect. Last year at the August bank holiday weekend my family and I were staying with our very special friends on the West Coast of the lake District. (In Kirksanton) It was the day after the Bank Holiday Monday; the weather was really not that great – blustery, cloudy and really not very inspiring to go out and paint. However I'm sure you know the saying 'nothing ventured, nothing gained' so a few of us headed out towards Haverigg. We drove through the village and out the other side heading for a fantastic small road that runs along the top of the harbour wall. Nearly at the end is a place that you can park and clamber down into a small sheltered cove. This was our destination and as luck would have it as we arrived there was some sunshine.Thanks Haverigg!
I had with me my precious acrylic paints, a reasonably sized canvas and a few favourite brushes. When I paint outdoors I tend to prefer to just sit down on the ground (everything is at an easy place to reach). The view that spread out in front of me was really quite amazing … the sand, the sea and an amazing large sky. It really did all feel quite dramatic. There was quite a strong wind which meant the clouds were moving across the sky really quickly and the water changed every few moments. I knew I wanted to capture the drama of this beautiful unspoiled landscape. For understandable reasons I worked really quickly using my acrylic paint in a reasonably heavy bodied form and with very little water. I wanted to keep some of the white of the canvas to add to the drama of the painting. Also I used the colours that felt right; that spoke to me of the sun hitting the wet sand the enormousness of the sea and the ever-changing dramatic sky.
As an artist you begin to learn what colours work well together; the complimentary; how to add drama by putting two colours next to each other. Also artists have their favourite colours and favourite colour schemes. I really love the richness of Windsor Blue and the intensity of Lemon Yellow. I do not believe there are any right and wrong to the colours in a landscape each person views landscapes differently and reads it in their own colour language.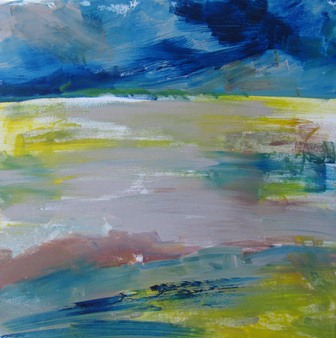 Towards the end of our time in this little cove it began to rain but I hadn't quite finished so I kept going hoping that the rainwater would add to the painting and not make it start running. (You cannot do this if working with watercolour). Below is an image of the painting I created. I really love it. Is that because I thoroughly enjoyed creating it? Because I felt very much at peace? That I was having an excellent time with my lovely family and amazing friends? I'm not really sure what the answer is … I just know that in my eyes the painting works. It speaks of space and energy and I am sure you will understand why I titled it 'In the Elements.'


Not sure you could paint on a beach like Haverigg ... what about some painting tutorials?