Painting a Landscape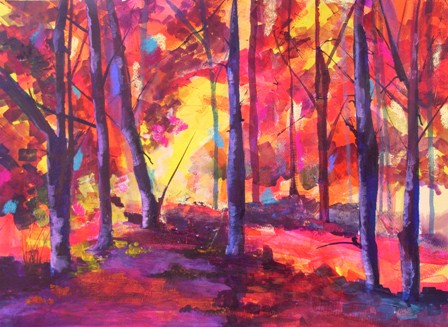 In every country there are an endless range of views. Deciding what to include when painting a landscape is hard.
Consider why you want to paint a landscape...
for your own enjoyment
to remind you of a special place - a great holiday
to have fun
to become better at painting
for a gift
to exhibit
to sell
Once you know why you want to paint the choice of what becomes a little easier. Connecting with your subject matter is crucial. Painting is all about expression. Capturing a 3d subject onto a 2d surface.
Share your thoughts on why landscapes ARE OR ARE NOT good subjects to paint.
What are your views about painting landscapes?
What Other Visitors Have Said
Click below to see contributions from other visitors to this page...

The Artist's ability to be Not rated yet
To sum up the meaning of my title, it means, " To be deliberatly obscure". I'm an Action Painter, which is title best summed up as an artist who drips …
How Are You Inspired? ... Not rated yet
do u think we can work only when we are inspired ...do u have good and soalful...person around u.... AN INTERESTING QUESTION ... I think you need …
TIPS
Choose a view that you connect with..
is it the colour?
the shapes?
the tones?
the mood?
the contrast of darks and lights?
is it a view that makes you want to walk on and explore further?
Try and remember this connection as you start painting.
How to Choose
Many landscapes are vast and although you can capture this homing in on a specific area is a good idea. To 'home-in' and focus on a particular view you can...
1. use your thumbs and first fingers to make a frame which when you look through helps you spot a great section of the landscape
2. use a viewfinder (simple frame cut from cardboard)
3. use your camera lens


Digital Cameras
A digital camera is a powerful tool for an artist because...
you can take endless photos
you can pick and choose your favourite parts of a landscape
your camera can be your viewfinder
you can crop photos before you print them
you can use photo shop etc to alter and manipulate a view
However a camera is only a tool. You need to develop and train your artistic eye. Why not think about sketching or painting on location? See the following links:

Learn more about sketching

Have a go at painting on location

As you consider painting a landscape, think about:

Paintings of Landscapes

Paintings of Barns

Impressionist painting - what we can learn from 'the old masters' about painting a landscape