How Are You Inspired? ...
by hansa
(indore,m.p.india)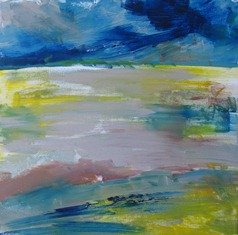 in the elements
do u think we can work only when we are inspired ...do u have good and soalful...person around u....

AN INTERESTING QUESTION ... I think you need to be inspired to paint and be creative. Personally I find if I am not inspired then my paintings can become flat and lifeless. You certainly need to be in a creative frame of mind and not feel pressurised. I am constantly aware of my enviroment and on the look out for fascinating colours, textures and moods in the landscape. The painting above was paointing really quickly, while it softly rained, by the sea in the Lake District.

I think having good and soulful people around you is very important. I'm very fortunate as I have a wonderful supportive family and lovely friends.
Join in and write your own page! It's easy to do. How? Simply click here to return to WHY I PAINT LANDSCAPES.