What is Mixed Media Painting
Mixed Media Painting is the use of two or more mediums (materials) to create a picture. It is the build up of layers of texture and colour. It is much more than collage. Wikipedia explains mixed media in visual art refers to an artwork which in its making more than one medium has been used. 'For example a work on canvas that combines paint, ink and collage could properly be called a "mixed media" work.'
This is an exciting and contemporary style of painting - rich colours and textures combined together producing an interesting and unusual work of art.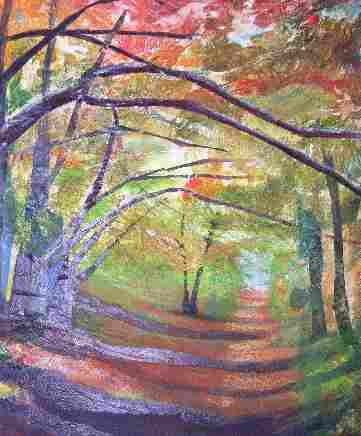 In this genre of paintings, a whole variety of materials are used, ranging from newspaper, to dried leaves, to pastels, to acrylic inks. Growing in popularity, this style is becoming more and more recognised as a contemporary art form.
Some mixed media artists that I encourage you to research further are Mike Bernard, Soraya French, Sera Knight, Jill Tattersall and myself, Marion Deacon.


Mixed Media Landscape Painting Why use mixed media to portray the landscape?

Mixed Media Mediums Discover and understand the variety of different mediums used in mixed media.

Mixed Media Techniques Understand the techniques used in mixed media painting.