About the Artist Marion Deacon
About the Artist . . .
Since 2007 Marion Deacon has been a professional artist. Initially she worked in watercolours and then discovered the versatility of acrylics. Marion loves the richness of colour and through experimentation and attending various workshops, she became passionate about mixed media painting.
Marion has become highly skilled at representing the landscape through using a variety of mediums. This includes acrylic paint and ink, collage, pastels and textural pastes.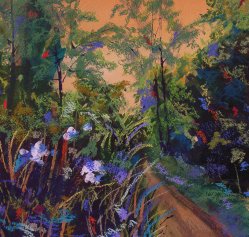 Marion's paintings are very popular and sell across the south of England, Surrey and London.




INTERVIEW WITH MARION
Can you tell us how landscapes came to be your focal point?
I have always been the kind of person who looks out of a window when travelling, rather than reading a book! This has been part of my character from childhood. I am fascinated by what I view. The landscape is so varied, so beautiful and constantly changing with time of day and the effect of light. The colours, shapes, texture and mood of a landscape are so exciting. I have attempted to paint other subjects ranging from slill life to portraits but it is capturing the drama and essence of a landscape that I am addicted to.
What is your favorite medium to work with and why?
The medium I love to work in above all is that of 'mixed media'. By this I mean a complex layering of collage, acrylic inks, acrylic paints and a variety of pastels or crayons.
So … why mixed media? I have explored and worked with oils, mono prints, screen prints and watercolour and this exploration has been over the last 20 years or so. However I do not think I was totally satisfied or happy with my work (if an artist ever is).
My route in to mixed media was through a couple of painting holidays where different techniques were explored. I originally was more interested in the collage aspect but as my style evolved collage became an integral part of the finished work. Mixed media to me, offers a great depth and richness of color and texture perfect when depicting the landscape.
As I paint I always aim to capture the emotion and essence of a place. Working in mixed media allows for freedom , experimentation and a painting that is built up of many layers. The painting evolves and grows very much as the landscape does.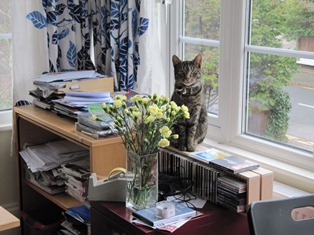 When did you know you were meant to be a professional artist?
I am not sure I ever new (or even know now) I was meant to be a professional artist. After a short time in the world of insurance I trained to be a primary school teacher. I specialized in art and spent the best part of 15 years teaching. My love of textiles and painting was an enjoyable hobby. A geographic move allowed me to assess my lifestyle, career and dreams. With the support of my amazing family I decided to turn my dream into reality and pursue my love of painting on a full time and professional basis.
It is fantastic to be a professional artist and selling something you have created is extremely rewarding. It is not an easy route to take, it demands great self belief and self motivation however it is the best thing in the world to be doing and I encourage all to follow your dreams.
Where does your inspiration come from?
I have found that something that surprises friends and colleagues in art groups is the way I turn an average sketch or photo into an exciting and contemporary painting. I sincerely believe that interpretation and capturing the impression of a view is key. I do work a lot from photographs but I am not trying to produce a replica. Basically from my backyard and local environment to any place I travel I have my eyes open and find inspiration for my work.
Please share wiyh your readers about your website – it is a great resource for artists!
Do you realize how much you know about your career or hobby? In the last 12 months I had the opportunity to dedicate some time to building a website. I knew I wanted it to be about landscape painting. As I started writing it I was struck with how much information I could share. Site Build It provided me with a framework that I could stamp my own style on.It is very easy to use with great step-by-step instructions.
So my website showcases my work; informs you of future events but also is a great information resource for all artists. You can learn about new materials, consider the type of landscape you wish to explore or learn new techniques.
I would also like the website to be a place where your ideas are shared and showcased. Please get in touch via the contact page or on any of the web pages that ask you to contribute.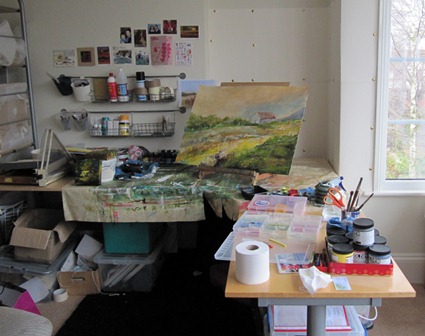 When you are not in the studio, where would one find you?
I guess you don't want to hear loading the dishwasher, feeding the cats or watching TV! My answer then falls into 3 parts. You will find me spending quite a lot of my time on my laptop. With every job comes paperwork and this is true for an artist. I work on my website, download photos and researching galleries and art events. I once read, and now believe that an artist should spend double the length of time painting promoting themselves and their work if they wish to succeed.
Having a balanced week is crucial to me. I am a people person and the only downside about being an artist is it's an isolating career. Therefore you will find me having coffee with friends, chilling with my family, running workshops and giving to my community through some church based activities.
Finally and sadly not enough outdoors sketching, exploring and taking photos.. My husband and I enjoy cycling and this allows for many beautiful landscapes to be explored and experienced.
Do you have any upcoming events you would like to share with us?
I am considering these questions in early January 2011 and due to a recent move from Wiltshire to Surrey (UK) this will be a year of exploration and discovery. Please look at my Exhibition page for this years events.
May I take this opportunity to Thank You for reading about my life as an artist, if you paint keep going and if you don't why don't you start?
Ask Marion your questions
Do you have any thoughts or queries about Marion's work?
What Other Visitors Have Said
Click below to see contributions from other visitors to this page...

A like minded artist

Hello Marion, My name is Bridget Winterbourne and I have been reading your interview on painters-on-line which has led me to view your fantastic website. …
HOW DO YOU ORGANISE YOUR STUDIO? Not rated yet
How do you organise your studio? MARION'S REPLY: This is an interesting question. I have put some photos on this page to help explain how I organise …
Please use the contact page to learn more 'about the artist' or for further information about commissions