Mixed Media Mediums explained
Mixed media mediums are varied. Some are used in other styles of painting such as acrylic paints. However, others are more specialised in nature. This is an 'at a glance' overview. For greater depth of information, please follow the link to collage.

Collage - understanding collage as part of mixed media mediums
Collage
In this style of painting, collage can play a significant role. These are all great to use:
tissue paper
angel wire
hand made natural papers
newspaper
glossy magazine pages
craft paper (used for card making)
Paint
When creating a mixed media painting, I have found the best paint to use is acrylics. Use a variety - inks and medium body acrylics. Some artists use watercolours to achieve a more subtle, softer mixed media style.


Neocolour and pastels
Neocolour II is produced by Caran D'ache. They are a water-soluable crayon. I like using them as they add a rich matt texture. (I do not add water to them).
Pastels are a brilliant medium when working on paper or board, but not canvas. I only use chalk pastels and my favourite are those produced by Unison - they are very soft with excellent pigment. When worked over a textured background they add extra tonal depth. Also they work beautifully over acrylics adding further interest and colour.


Gesso
This is white paint, slightly chalky and paste-like. It is used to prime board or canvas before applying acrylics. It can be put on roughly with a brush, palette knife, or credit card edge, to add lots of exciting texture. I tend to not use gesso and collage on the same painting.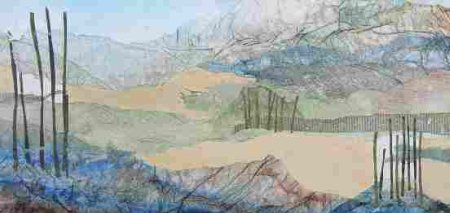 In this painting you can see tissue paper, cut magazine pages, acrylic paint, newspaper, handmade paper, and washes of acrylic ink all working beautifully together.