Paintings of Barns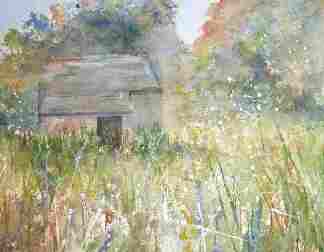 Landscape paintings are all about the natural world. Yet paintings of barns obviously include something man-made.
This can create a tension. This can create a point of interest. This can create a contrast.
A depiction of a barn can range from a few marks suggesting a building away in the distance - to detailed and precise brushwork depicting the wooden planks, and uneven window frames.
Why is it that many men are drawn to landscapes that include barns?
Painting a landscape including a barn or farm building can be enhanced by adding texture.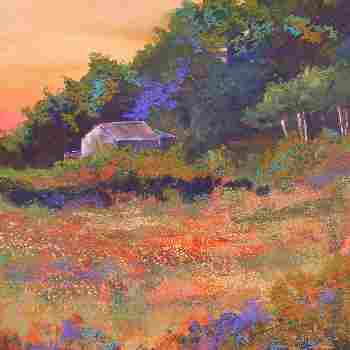 The above painting is worked with mixed media - a mixture of acrylic inks, paints and pastel. Some of the foreground texture has been achieved by using a roller.
Building and Landscapes
In a recent article Judi Whitton considers the relationship between buildings and landscapes. She asks why people are attracted to paintings where nature and human impact go side by side. She asks 'Could it be the erratic curves of nature contrasting with the regularity of man-made objects?'
What do you think? Paintings of Barns raises questions about the man-made within the natural world. Why not share your thoughts on the Contact Me page