Painted Greetings Cards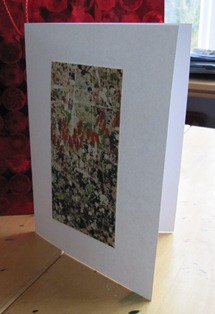 Have you seen many hand painted greetings cards in shops? At craft markets? In art galleries? I am sure you would agree with me that these greetings cards are unique, special and perfect for those very important occassions.
The photo above shows one of my handpainted cards, it is semi abstract and represents a cottage garden.
I choose to fix my painting on to the front of a greetings card. Another option is to paint on the entire front of your card or to mask a frame of the size you require.

What is suitable?
Whatever kind of artist you are and whatever your prefered subject, I am sure you can adapt your work to be the focal point on a greetings card.
My top tip would be do not scrimp on quality of materials when doing a small painting for a card. Just because you are working smaller don't let your quality slip.
Something I always try to bear in mind is you never know where your work could end up or who may see it. A greetings card with your original art work on it should have your name and contact details on the back. You never know if a commission is just around the corner.
Choosing a Price
Choosing a price for your painted greetings cards is not an easy task.
Consider the following points before you stick a price tag on your cards.
What kind of event are you selling at, will some of your profit go to charity or a gallery owner?
How much did your materials cost?
If other exclusive cards are being sold at the same venue, price yours in the middle of the price range. In doing this they do not seem to cheap and are still competitive.
Consider if it is an affluent area where you hope to sell your cards
Many artists and craft people under value their work. If you are proud enough of what you have produced that you believe someone will buy and treasure it then go for it and price it accordingly.
If you want lots of practical ideas on painted greetings cards then click here please