Spring Landscape Paintings
Why do you want to create Spring Landscape Paintings? Are you excited about the fresh colours and amazing spring flowers? I love the vibrant greens, splashes of bright yellow daffodils and intense hues of the bluebells.

This mixed media painting of Blubell Woods was inspired by a visit to West Woods in Wiltshire. I spent some time strolling around taking some photographs and sketching. I was struck by the bright greens, dark shadows and incredible carpet of blues and mauves.
When creating a spring painting trees or shrubs can play an important role as they can suggest new fresh growth. Also and sorry if its obvious but the amazing colours and shapes of spring flowers surely should be part of a spring landscape?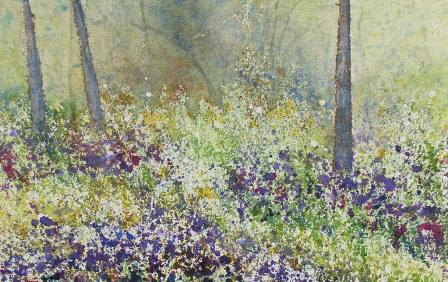 I cannot emphasise enjough how beneficial it is to get out into your local backyard and sketch or take photos. Immerse your senses and aim to capture the experience and not just the view.

Stuck for inspiration for spring landscape paintings ? Why not have a look in the image gallery.
Share your seasonal painting... and SEE YOUR WORK in an online gallery !
Time for YOU TO SHOW OFF
Why not share a seasonal landscape painting, it can reflect any of the seasons? Please complete the form below and by way of thanks I will send you 3 of my cards for any image I select for the gallery.