Acrylic Paint - medium body consistency
Medium body acrylics are your everyday acrylic paints. The consistency is such that it would drop off a spoon rather like double cream.
At this point it's worth remembering you can get student or artist quality art materials. There is a big difference in quality and cost. You need to decide:
how often will you use them?
is this to try them out?
are you painting for yourself?
do you hope to exhibit / sell your work?
is your aim to become a professional artist?
I am a real believer in buying the best art materials you can afford. Student quality paints have less pigment and more 'filler' in them - you will not be able to achieve the best results possible with them.
Everyone has personal choice when it comes to brands for art materials. I encourage you to talk to other painters, to search the web for people's views. If you can afford it, try a couple of colours by different manufacturers.
Fairly recently I decided, upon recommendation, to try Golden Acrylics. I have to say their acrylic paints are excellent. They have a really rich, buttery consistency. They are artist quality and the pigments are superb.
Stay-wet Palette
With acrylics you need to use a stay-wet palette. This is a plastic tray with a piece of absorbant paper - saturated with water. Next comes a layer of grease-proof style paper. You then put your acrylic paints on this. The dampness stops the acrylics drying out. BUT remember you need to put a lid over them to prevent them drying up too quickly.
You can construct a stay-wet palette yourself or buy an 'off-the-shelf' one. To learn more see the materials page.
Materials Having said this, Golden Acrylics have brought out a new range called Open Acrylics. These are great! They have a far longer drying time so a stay-wet palette is not needed.
I bought tubs of Golden Open Acrylics and have used a box with compartments and lid to transport mine around.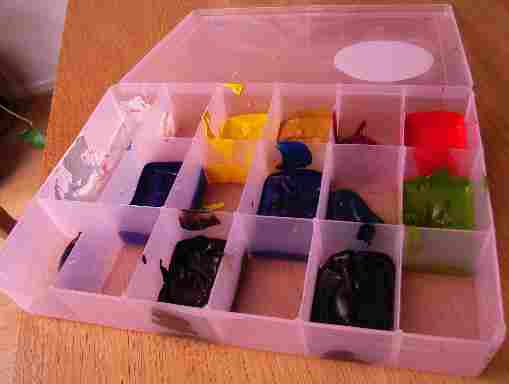 The longer drying time means they last so much longer. Also they are more workable on your surface for a greater duration. When need be, to speed up drying time, I use a hair-dryer.
To change the consistency you can add acrylic mediums. Interested? Then follow the link below . . . Acrylic Mediums Explained

For suppliers of acrylic paint, follow this link